September
21
2011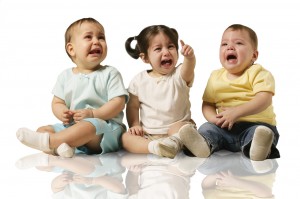 When I read this article on my favorite site, babble.com I started to laugh out loud. 10 horrible but funny things that babies do in public.
Karen Anderson writes:
Ah, the first year! What a magical baby time. Those pink little cheeks, the baby breath, the gahs and the goos … there's a reason why eating babies is against 
the law.
When not everything is perfect any more:
But there's also the not-so-delicious side of babies. They have frighteningly loud sounds, abnormally large amounts of fluid that come out of every end, fingers stronger than full-grown chimps, and smells that make you wonder if you had an accident. The key to getting through the first year is knowing what to do when your precious angel unleashes one of these horrendous acts of God in front of other people.
Read the rest of this really funny article here: 10 horrible things that your baby does in public
Leave a Comment