August
17
2012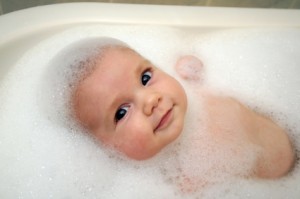 I'm a new mom and I always want the best for my son when it comes to different baby care products. Moms talk about different baby care products and there's a big confusion which are the best baby products to use. The most important thing is that the baby care product should be free of:
parabens
sodium laureth sulfates (SLS)
phthalates
1,4 dioxanes
propylene glycol
PEG's
Check always the labels if you want to use completely healthy baby products. Thanks to SafeMama she made a list of heatlhy baby products.
It's also a good news that Johnson & Johnson has created a new site where moms and dads (too) can check how safe J&J baby products are: www.SafetyandCareCommitment.com an initiative to help consumers better understand all the measures they take to make their beauty and baby care products as safe as can be.
Skin Deep is also a great place to check how safe a baby care product is. They break down ingredients list and they also give a ranking to a specific product. Good guide is also a great place to check a specific baby care product.
 I hope I could help, anyway it's also possible to check every single baby care product in advance, before you buy it. I usually Google the name of the specific product and I always find useful information about it.