December
28
2011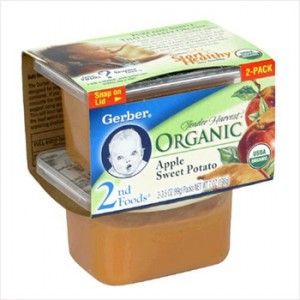 Baby food stages can be confusing for lot of moms. There are 3 different stages and steps that you have to follow when you're a new mom. Why is this confusion? Because each baby food company has uses different labels. According to the American Academy of Pediatrics there are 2 rules apply:
Always begin with stage 1 foods that are made for beginners. Don't offer your baby toddler foods because  they usually contain chunks, only when he/she is an experienced eater try with toddler food.
Free Gerber Baby Food Coupons – get them today >>
Baby food stages for 4-6 month babies:
Beech-Nut Naturals Stage 1
Earth's Best 1st Beginner Foods
Gerber 1st Foods
Heinz Step 1 Beginner Foods
These baby food always include single ingredient foods i.e.: rice cereal, and pureed fruits and vegetables which are prefect for you baby.
Baby food stages for 7-8 month babies:
When your baby is 7-8 month old you can start with Stage 2 baby food which also contain single ingredient foods and a combination of strained food (not pureed).
Beech-Nut Naturals Stage 2 Apples & Bananas
Gerber 2nd Foods Garden Vegetables
Heinz Strained Vegetables
Earth's Best Corn and Butternut Squash.
Baby food stages for 9-12 month babies:
When your baby is 9-12 month old you can introduce him/her to chunkier baby food that has more texture in it and this
also helps them how to chew.
Beech-Nut Naturals Stage 3 Chicken Lasagna
Gerber 3rd Foods Broccoli & Carrots with Cheese
Heinz Vegetables Beef & Spaghetti (Junior Foods)
Earth's Best Chunky Orchard Fruit (Chunky Blend)
When your baby reaches the 1-2 years you can start with table food – basically the same food as your family is eating.
You can also continue to buy food at the store like:
Beech-Nut Naturals Table Time Peach Dices In White Grape Juice From Concentrate
Heinz Step 4 Toddler Cuisine Chicken & Stars with Vegetables & Gravy
This is only a guideline and does not apply for every single baby. Don't forget that babies development can be different
and they reach certain stages in different time. If you are confused talk to your pediatrician.