April
10
2012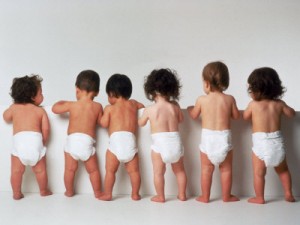 Diapers cost a fortune but as a young mom be prepared because your baby will need them – loads of them. Now you can learn how to get free diapers for babies:
There are several programs like WIC (Women, Infants and Children) or TANF (Temporary Assistance for Needy Families) that can help you. They won't give you free diapers but give you other free items so you can free up some money to buy diapers.
Manufacturer's site can also be really helpful to get some free baby diapers. You can sign up for different coupons and they will mail them to you or you can also get printable coupons that will be emailed to you.
When you visit department stores or restaurants sometimes their restrooms have disposable diapers. You can always take one but please don't be greedy (it's not nice).
There are several contests online where you can enter. Just Google "diaper giveaway" or you can try it on Twitter too. Mom blogs also offer you free diapers as a prize. You just have to look for them.
Rebate offers can also save you some money when it comes to diapers i.e. Sunday papers have rebate offers. If you have some free time just follow the steps and send in your receipt and UPC code and you'll get a free pack of diapers.
To be continued …
Leave a Comment