February
23
2011
Update: Unfortunately Regis and Kelly won't be doing the contest in 2011.  Don't worry because you can enter the Sweetest Kid baby photo contest instead?

Please click on the following link to enter the Sweetest Kid Photo Contest now:
It's pretty easy to submit your kids pictures to the Regis and Kelly cute kid contest 2011.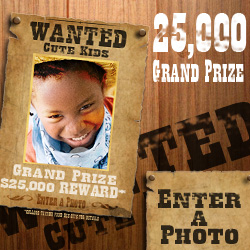 The contest rules are the following:
Your baby/kid must be between six and forty eight months old by January 2011.
The contest is open  United States and Canadian residents only.
The picture submitted has to be non-professional.
It has to be a recent picture between one and two months old. If you have twins or triplets, they have to be one picture together.
The photo needs to be no larger than 2000×1500 pixels.
Just check out 2010 top finalists, they are really cute!

4 Responses
Leave a Comment